Tesco Mobile Case Study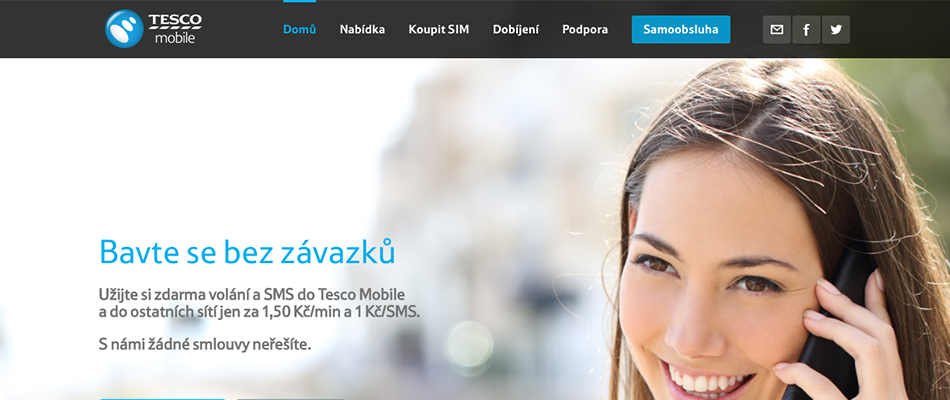 Organization
In May 2013, Tesco Mobile, Czech Republic was launched as a joint venture between Telefónica Czech Republic and Tesco stores to follow in the footsteps of other successful Tesco based virtual operators in the United Kingdom, Hungary, Slovakia, South Korea and Ireland.
Tesco Mobile operates on the Telefónica Czech Republic network, offering the same full coverage as other virtual operators, but with no added infrastructure costs. The Tesco Mobile pay-as-you-go services with low-cost calling and text messaging targeting customers who prefer simple, straightforward pricing schemes while retaining quality and value.
Tesco Mobile builds upon the synergy created between Telefónica Czech Republic and Tesco distribution channels, via the Tesco Clubcard customer loyalty program. In addition to its presence within the Czech Republic, Tesco, a multinational grocery and general merchandise retailer, operates in 14 countries across Asia, Europe and North America. Measured by profit, it is the second-largest retailer in the world.
Telefónica O2 Czech Republic – A Member of the Telefónica Group
Telefónica Czech Republic (operating under the name O2) is a major integrated operator in the Czech Republic with more than six million fixed and mobile lines making it a market leader in fully converged telecommunications services. The company, part of the Spanish group Telefónica Europe, offers the most comprehensive portfolio of voice and data services in the country.
Challenge – Mobile Market Transformation
Due to a perceived long-standing market inequity within the mobile communications market in the Czech Republic, the Czech Telecommunication Office – the government body responsible for regulating electronic communications – mandated all major operators to open their networks to allow for the introduction of smaller competing MVNOs. In order to retain its indirect market share, O2 took the initiative in becoming the first operator to adopt an end-to-end solution for virtual operators providing:
Full support of its infrastructure and mobile network
Full support of its operations and business support systems (OSS & BSS)
Reliable Customer Care service
Comprehensive Self-service for customers
Resolution
Following the successful implementation, between Emeldi and Telefónica Czech Republic, of the MVNO OSS & BSS readiness project, and subsequently the first MVNO operator within Czech Republic – BLESKmobil, Emeldi and Telefónica Czech Republic decided to continue their joint cooperation and introduce Tesco Mobile into the list of MVNO operators under the Telefónica network.
The Emeldi Commerce® – Enterprise Portal Suite – a comprehensive, full-fledged enterprise e-commerce solution ideal for tier-1 telecom, banking, and utilities enterprise service providers, was again chosen as Telefónica's preferred product capable of meeting its online channels domain and customer relationship management (CRM) requirements.
The Emeldi Commerce® – Enterprise Portal Suite:
 Is a ready-made e-commerce product fully deployable into Liferay Portal framework, requiring only local customization to operator's business lines
 Contains MVNO functionality including CRM, Self-care, E-shop
Easy integrated into the operator's OSS/BSS environment
Features a flexible and enhanced user-friendly customer experience
Simplifies and standardizes 3rd-party integration
Supports new clients ("digital natives") using advanced web 2.0 functionality and marketing campaigns
Allows orchestration of business processes and integration with existing OSS and BSS systems
Offers a fully integrated out-of-the-box CRM capable of managing millions of customers
To meet Telefónica O2's challenge, the entire Emeldi Commerce® – Enterprise Portal Suite modules were employed:
CRM
Order Management
Portfolio
Content Management
Dynamic Page Flow Engine
Integration Framework
Enterprise Portal Services
Customer Intelligence
Campaign Management
Rules Engine
Customer Engagements
Marketing Enterprise Portal Management
Business Value Added
Following the successful deployment and adoption of the Emeldi Commerce® – Enterprise Portal Suite for prepaid mobile services, Telefónica O2 and Tesco Mobile continue to increase their market share of mobile subscriptions within the Czech Republic.
The Emeldi Commerce® – Enterprise Portal Suite has enabled Telefónica Czech Republic and Tesco Mobile to leverage both a ready-made integrated MVNO-in-a-box, and comprehensive e-commerce product achieving significant savings in cost and time throughout the project delivery. Tesco Mobile offer mobile customers in the Czech Republic more attractive choices and can be combined with the Tesco Clubcard and Tesco's loyalty program.