How AI-Driven e-Commerce Can Benefit Telecoms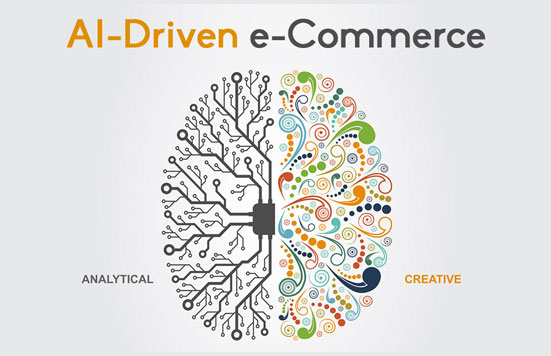 With the general status of the marketplace, e-commerce within the CSP space has become more saturated and competitive; thus for a digitally enabled operator to succeed, it needs to have accurate, comprehensive customer data in order to deliver smarter and quicker services to the ever increasing demands of its end-users.
As a business leader, CSPs need to know that every aspect of their business, from product selection, and inventory management to the outlay of your online and physical store, depends on its understanding of its clientele. However, due to the increased use of e-commerce sites and apps that leverage artificial intelligence, customer expectations have become quite dynamic and satisfying them, almost elusive. Predicting a client's next move in such an environment is a stressful and daunting prospect.
Operators are taking great pains to ensure they are not left behind; and are quickly leveling the playground with their competitors using Artificial Intelligence to enhance their digital-commerce landscapes ushering in to their subscribers the future of telecommunication end-user services and customer support. This will eliminate the over-reliance on the assumption based demographic data that provides limited intelligence on clients and enable the use of data-based decision-making algorithms that grow smarter with time. The latter, can collect real-time interactive data on users' needs at a deep level and enable precise predictions of the products that they will most likely buy, or services which they may find of interest.
With AI-driven e-commerce, operators will have the power to reduce manual retailing operations and customer support, while tailoring personalized experiences for their subscribers.
Core AI Technologies Currently in Application
2017 saw the introduction of many landmark artificial intelligence technology developments that have transformed the digital-commerce marketplace significantly. For instance, companies such as Google, Pinterest and Bing launched visual search capabilities; Facebook leveraged AI to detect mental illness among its users and many others.
Customer Service Chatbots
Thanks to the emergence of intelligent chatbots, telecommunication firms, and e-commerce sites have been able to offer 24 hr. service all week round to their clients. These smart bots automate customer service inquiries, route clients to the right agents, and prospects with purchasing intents to sales personnel. Thus, by providing a seamless brand experience, these intelligent beings can enhance communication efficiency in your enterprise significantly.
Retailers have leveraged the technology on their websites and through chat enabled applications such as Messenger and Facebook. Prospect customers can use either text or speech, at times both, to communicate with the chatbots. The bots can assess, respond to customer queries, assist with the selection procedure, and perform simple tasks. Check our article about How Conversational Commerce (Chatbots) is Transforming the Telecom Industry
Customer Relationship Management (CRM)
Historically, CRM mainly relied on people to gather and assess data so they can best attend to their customers. This was a very labour-intensive, error-prone, time-consuming, and most importantly, costly approach. Currently, with AI, you can quickly examine bulks of data and precisely identify a customer who is likely to make a purchase and how you can best facilitate him or her.
Courtesy of Machine learning, advanced cloud CRM can now learn with time to predict and score agreements more accurately. This frees up time for the sales team to focus on creating and fostering relations that improve business value.
Product Content Management
From inventory management to product cataloging, Artificial Intelligence enables firms to offer unified customer experiences by organizing and tracking crucial data and materials. Product content management is vital for a business to provide distinctive, yet consistent user experiences across all platforms.
In order to deliver unique and consistent customer experiences across all touchpoints, operators don't have an option but to take into consideration product content management (PCM). Product Managers need to manage the complexity of a CSP product or service that's available across different segments in a centralized manner and be able to adapt according to changing customer account configurations, allowing customers to have a consistent experience regardless of the channel they use to engage; online, over the phone, or in your store.
Customer Service Enhancement Systems
With prevailing competitive trends, outstanding customer service is vital. AI allows operators to focus on what is most crucial; satisfying subscribers' needs and replying to their demands irrespective of the hour or day.
A hybrid customer service environment should be able to balance between man and machine. It leverages the best of AI while still utilizing agent knowledge and preserving customer context. While chatbots and machine learning techniques excel with Tier 1 service engagements by answering those common customer questions, they may not always have the answer to the more complex, situation or customer specific questions.
After becoming the first TV service to collaborate with Amazon, DISH Network was looking to enhance their customer service by leveraging the AI technology. Thus, it designed a DVR protocol that was compatible with Alexa products of Amazon. This move enabled its users to access voice aided TV navigation at no extra fee.
Later in 2016, the company announced the launch of another accessibility device, the Voice Remote that it had developed. Due to its size and design, the Company's VP, compared the Voice Remote to a smartphone since it boosted ease of access, the speed of functions and convenience.
Artificial Intelligence Automation Software
Unlike what it may seem in the movies, integrating AI and machine learning doesn't mean that the machines are taking over. These artificial technologies are not aggressive or frightening; instead, they avail the opportunity for CSPs to offer precisely what the end-user needs, exactly when they need it.
For instance, in 2016, CenturyLink applied an automated sales application into its model. Popularly known as Angie, this automated sales assistant was the product of Coversica, a company famed for providing AI based lead generating software. According to a report written by Harvard Business Review, Angie handles an average of 30,000 emails every month and assesses the responses offered to identify likely leads. A review of the period indicated that sales reps saved the time they used on follow-up and outreach. By the end of the period, each sales rep had an outstanding number of 300 accounts, far out-performing baseline expectations of un-assisted lead-generation.
That same year, Epson America, the printer and imaging giant, also piloted Conversica AI. Chris Nickel, Epson's senior manager of commercial marketing, said, "Before, if we gave 100 leads to the reps, we might get a couple of responses from customers. Now, if we give 100 leads to the AI assistant, we get 50 responses." Epson reports that the official response rate with the AI assistant is 51%, representing a 240% increase from the baseline established at the beginning of the pilot, and a 75% increase in qualified leads. According to Nickel, that has produced $2 million in incremental revenue in just 90 days.
Internet of Things (IoT)
Cohesiveness facilitates the smooth running of things, and IoT provides connectivity for all aspects of your daily life. From lights programming to syncing several devices, car, appliances and washing machine, while also monitoring air quality and traffic lights, the Internet is enhancing life globally. IoT innovations have so much to offer the telecommunication industry.
AI Driven Sales
Irrespective of the degree of change that the world undergoes, commerce can only depend on sales. Artificial intelligence assists with the whole customer experience from prospecting to purchase and even the after-sales service.
How CSPs Can Leverage the Artificial Intelligence Core Technologies
Develop Intelligent Shopping Journeys
When customers engage with their current (or prospective) operator, the product recommendations that they are shown should be based on their actual clicks collected by the intelligent search engines. The site should be able to use AI to develop a predictive model for every customer, therefore creating unique customer experiences.
On the other end, the live click system should have the capability to provide smarter actionable and merchandising insights for the commerce team. Thus, making it easier for a team member to approach a client with the right information and engage with them in a way that will help in closing the sale.
Provide Tailored Product Recommendations
Customers want to spend the least possible time finding the products and service which best suit their needs. Therefore, by providing custom product recommendations, CSPs shorten search durations significantly and increase sales frequently.
Gradual Implementation of Custom Recommendations
Operators are advised to find that implementing AI driven recommendations gradually will be most beneficial to their business in terms of customer retention and increased NPS numbers. For instance, instead of updating the entire order capture engine with custom recommendations, they will achieve better results in identifying and optimizing a smaller subset of key product lines across all channels. This method will enable product managers to perfect a technique which works best for their specific market, and also understand their customers better.
Customize Search Results
Digitally-enabled subscribers are not patient. They will not scroll through a multitude of pages of product images or service information to find their ideal bundle. Instead, if they cannot see the desired item on the first page, they are very likely to abandon without converting. CSPs now use predictive behavior systems to show customers the products or services they are most likely to buy from each category. This way, you reduce the time used searching and channel it towards increased conversions.
Strategic Positioning of the Search Bar
For customized search results to work effectively, the end-user needs to search for a commodity, that is, engage with it. CSPs employ techniques to encourage them to do so by tactically placing the search bar on targeted pages and sections, and displaying sticky search components rendering it visible even as one scrolls through the products.
Quality of Data
Lastly, the accuracy of customized search outcomes relies on the quality of the data which is kept within the PCM. Through the use of fit-to-purpose telecom-specific product catalogues such as Emeldi Commerce Omni-channel Platform for CSPs, product managers are able to observe Commerce Cloud best-practices to ensure that their product data is well-maintained across all channels enabling machine-learning algorithms to accurately sift and optimally categorize product offerings to provide customers with high-converting and personalized experiences.
Convert Your Data Into Actionable Intuitions
Sorting through bulks of data manually is not only time-consuming but also challenging to keep track of it all. Deciding what information will be useful in driving revenue and conversions will be the hardest part of the task. AI data analysis protocols, however, can quickly turn data into actionable intuitions. CSPs can harness this functionality further by developing a change roadmap for their omni-channel digital–commerce environments.
Predict Purchase Patterns
Omni-channel platforms use collected data to reveal purchase patterns in personalizing and designing unique experiences for end-users. AI commerce applications automatically assess the data and provide information in order to optimize customer experiences and drive further interactions. This feature will also allow analysts to quickly determine co-purchase patterns and create product combinations, bundles, and deals that users desire most.
Allow AI to Redesign Your Script
While merchandising is an art; merging it with data science of customer behavior makes it even better. However, instead of focusing on the aesthetics, empower your employees with the customer behavior algorithm so they can accomplish unimaginable fits. In addition to enabling employees, this approach also allows merchandisers the liberty to be innovative and formulate experiences that will improve your brand and bottom-line.
Harnessing AI for Physical Stores
While the purpose of this article has been to emphasize how CSPs can use AI to improve their omni-channel digital-commerce platforms, consumer behavior systems and data analysis tools can also be used to benefit traditional brick and mortar stores.
Layout Modification
Once accurate information has been gleaned on specific customers and their purchasing patterns, CSPs with physical point of sales locations can use this information to guide them into laying out key sections of their stores. For instance, since many people love purchasing accessories for hand-held devices , store managers can display some eye-catching accessories at the front of the store. Once people are lured into the store, they get to see so many other attractive items that have been strategically arranged according to the collected behavioral statistics.
Things Can Only Get Better
Integrating AI engines with digital-commerce platforms will improve operations significantly as operators will no longer be forced to second-guess decisions since the data provides the solutions. Better still, AI systems get smarter with time since their prediction algorithms generate more precise personalization and insights as they collect and analyze more data.
Consequently, CSP business decisions will be more precise, manual merchandising tasks will be reduced, and product managers will have more time to focus on business growth and development.
While the idea of utilizing AI for e-commerce can appear intimidatingly complex, several simple applications can come ready-to-deploy out-of-the-box requiring no data scientists or specialized expertise to implement and ensure improved returns within a short time.
One example that cannot go unmentioned is Amazon's new initiative; Amazon Go which is using technology found in self driving cars, computer vision, sensor fusion, and deep learning to ensure customers have a hassle free experience in a unique no-checkout store.
Concluding insights
It's not shocking to see voice interfaces and chatbots being the most commonly used application of Artificial Intelligence in the telecommunication industry. Firms with large B2C transactions are most appropriate to merit from both voice and text applications, for several reasons:
Customer service comprises the most significant expense for operators with large subscriber bases. Luckily, chatbots provide a potential for considerably enhanced efficacies. Rogers Communications for example managed to drop customer service call volumes by about 13% in 2015 and internal customer satisfaction scores improved by 65%.
Additionally, chatbots can also be trained in speech recognition protocols and used to reduce the data analysis task for companies that receive large volumes of customer care requests.
A few years from now, many Fortune 500 telecommunication firms will be leveraging predictive maintenance applications and will be collecting massive amounts of data and tailoring custom maintenance efforts consequently.
Due to their extensive and distributed infrastructure, it is likely that telecom companies will host a network of firms leveraging data for operations and uptime. Also, it will be a while before Small and Medium sized businesses adopt such technological innovations.
AI & Emeldi Commerce Omni-channel Platform
As part of its strategic approach towards true Headless Commerce, and enhancing digital-commerce capabilities by integrating best-in-breed digital-commerce technologies, the Emeldi Commerce microservice API continues to grow to allow for further interoperability with conversational commerce vendors.
The emergence of AI-powered personalization engines will remain as a driving force supporting personalized shopping experience and product recommendations, and over the next 5 years we will see a significant degree of variation of players being introduced into the market.
Emeldi has invested heavily into the development and deployment of intelligent predictive care/sales, and customer journey personalization, while ensuring that Emeldi Commerce Headless Commerce API has been designed to seamlessly allow the introduction of leading 3rd party analytics solutions into its omni-channel integrated landscape, both deployable on premises or in cloud.