Emeldi Technologies launch their latest Omni-channel CRM software: Emeldi Commerce® Version 6.0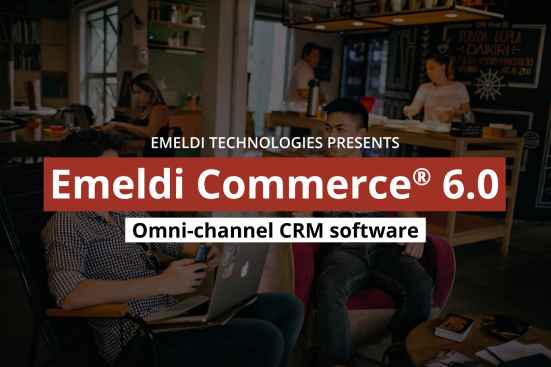 Emeldi Technologies, a leading software provider to the telecommunications industry, has released their latest Omni-channel CRM (Customer Relationship Management) software: Emeldi Commerce® Version 6.0. The new version now provides the industry with a CRM that's not just cost-effective, but uniquely crafted to serve telecommunication customers.
Their omni-channel solution represents a single instance of CRM application for all sales and support channels, supported by single consolidated Customer and Product Catalogue repositories.
"Our main focus for 6.0 was to make sure that technological transformation and the introduction of the Omni-channel CRM were a top priority among other additions," said Dusan Bystriansky, Emeldi Technologies CEO.
Emeldi Commerce® Version 6.0, which has already been adopted by O2 Czech Republic, reduces customer churn and increases revenue. It improves customer experience, creating a seamless customer sales journey across multiple sales channels. It also lowers total cost of ownership (TCO) and significantly improves time to market (TTM).
"Emeldi is a key partner that we picked because of their flexibility. We're able to influence the product and get any solution we need. Putting their technology in the middle of our CRM is definitely strengthening our partnership" said Mr. Jan Hruska, CTO of O2 Czech Republic. Read more.
Features of emeldi Commerce® Version 6.0 include:
a unified user experience (UX) approach throughout the entire customer lifecycle
micro-services-based architecture allowing more flexibility when choosing technologies. It also increases productivity and provides a scalable solution without the hassle of IT issues
sales and support channels can now use a single logic of the CRM application management of all physical products and digital services in one place, greatly
reducing time-to-market for the introduction of new products
public and private cloud-ready
cloud-native environment
next level quality assurance (QA), achieved through an automated CI/CD process cost savings to DevOps gained from a zero-downtime release process
support for the latest Oracle and PostgreSQL versions
web-based clients on mobile, tablet and desktop benefit from highly responsive design
openAPI for third party clients and mobile apps
customers and DevOps can now store, index, analyze and gain powerful insights from vast amounts of structured and unstructured CRM data
flexible product tree structures gained from a Sophisticated Product Catalogue
More information on Emeldi Commerce®
Customer experience is at the forefront of Emeldi's innovative solution, with a product catalogue that addresses the technical headaches and business hierarchies of the telecommunication verticals.
The fully automated ordering and fulfilment enable rapid deployment times and provides CSPs with a targeted and high-value proposition.
The Configure, Price, Quote (CPQ) feature addresses complex product relationships and pricing rules. Customer loyalty is also improved by creating a complete brand experience for customers across all touchpoints.
The Emeldi Commerce® 360° customer view creates a flowing customer experience propelled by an integrated data-capture engine, allowing the CRM to be delivered by just one platform.
Emeldi Commerce Omni-channel Platform is structured using a unified architecture which combines both Digital commerce and CRM functionality into a single application. With Emeldi Commerce Self-Service-360, CSP customers can manage their account profiles through a single dashboard.
Learn more information on the benefits of Emeldi Commerce® Version 6.0 by visiting the Emeldi website today.
About Emeldi Technologies:
Emeldi Group is a privately held, leading software provider to the telecommunications industry. Established in 1998, a disruptive product offering has been developed: Emeldi Commerce® – an enterprise-grade, unified Omni-Channel commerce and CRM application specifically designed for the communications vertical, supporting products, services and customer-engagement processes.